FREE SHIPPING ON ORDERS ABOVE $100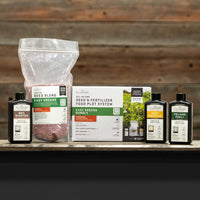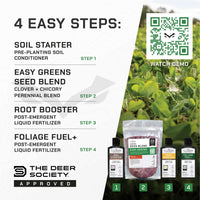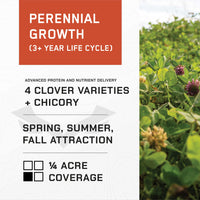 EASY GREENS - (Perennial) Food Plot System
Regular Price

$49.97

Sale Price

$49.97

Regular Price

Unit Price

per
The Easy Greens food plot system is an ALL-IN-ONE (Seed + Fertilizer) perennial system designed to help maximize the volume and attraction of your food plot. Featuring a blend of premium clovers paired with chicory, Easy Greens blankets the terrain with lush greens that come back year after year. This system does not require tilling, making it a simple and easy option to establish a quality food plot. Easy Greens is a drought-hardy blend that thrives in various soil types and climates, helps build soil quality, and is highly attractive to wildlife, making it a key foundation to any quality deer management plan. 
Product Highlights and Top Features:
All-In-One Seed & Fertilizer System

Pre-measured, ¼ Acre Coverage Applications 

Custom Perennial Seed Blend: 4 Clover Varieties + Chicory

Spring, Summer & Fall Performance

25% More Seed Per Acre (Calculated at Broadcast Rate, Not Drill Rate)

Directly Feed Plants w/ Liquid Foliar Fertilizers

Easy Application (Designed for Common Spreaders & Sprayers)

Engineered to Maximize Tonnage & Attraction 

Included: (Soil Starter, Easy Greens Seed Blend, Root Booster, Foliage Fuel+) 
Components (System Includes): 
STEP 1: Soil Starter (Pre-Planting Soil Conditioner - 8 fl. oz.): The first step in building a plant's foundation, this formula helps optimize soil PH and create an environment where seedlings and plant-boosting microbes can thrive while helping to improve germination, root development, cell structure and nutrient uptake. 
STEP 2: Easy Greens (Perennial Seed Blend - 2lb.): Easy Greens is a drought-hardy blend of four highly attractive clover varieties paired with chicory. A perfect no-till choice for interior plots and shaded areas. 
STEP 3: Root Booster (Post-Emergent Liquid Fertilizer - 8 fl. oz.): Rich in potassium and phosphorus, this fertilizer does just what it says: boost root development. A better root system is great for helping brassicas develop larger bulbs as well as results in deep, dark leaves. A robust root system also helps plants during times of stress, ensuring deer have a reliable food source into fall and winter. 
STEP4: Foliage Fuel+ (Post-Emergent Liquid Fertilizer - 8 fl. oz): If your food plot is lacking in vital nitrogen, this fertilizer is perfect for giving plants the boost they need. Our proprietary formula is packed with five essential micronutrients, helping improve nitrogen uptake and assist the expansion of the foliage canopy as it gets closer to maturity. 
Nutritional Benefits: 
Spring/Summer: A key fawning season food source for does, helping to promote healthy milk production. Highly sought-after micronutrients/protein source for antler growth in bucks.
Fall: A blend of forage varieties rich in protein, micronutrients (Calcium, Magnesium, Iron) and soluble carbohydrates. Easy Greens is a consistent and reliable food source for deer the entire fall. 
Growth and Planting Specs:
Natural Life Cycle: Perennial (3-4 years)

Soil Type: Light Loam to Clay

Germination: 7-10 days

Establishment: 6-8 weeks

Spring, Summer and Fall Planting (top food plot blend for "frost seeding")

Planting Depth: 1/16"  to ⅛" max -or- top seeded 

Planting Dates: (Spring Seeding vs. Fall Planting)

NORTH: March - June / August - September

CENTRAL: March - May / August - September

SOUTH: February - April / September - October
All Illusion Systems orders will be processed within 1-2 business days and typically delivered within 3-5 business days once shipped.
Order confirmation will be emailed to you within a few hours of your order being placed. Tracking information will be emailed to you the day your order ships and leaves the Illusion Systems facility. (Valid email required when ordering).